Tips and Tricks for Picking the Best Domain Name
Getting your website online can be an exciting time. There is a lot of growth potential that websites can offer, especially as technology and internet use continue to rise. However, there's a lot of consideration that needs to go into making your website work for your business or brand. You have to create a pleasing design, find the right hosting plan, and make sure your domain name is accurate and functional. Here are some tips and tricks to help you pick the best domain name for your website.
Top-Level Domain
The top-level domain is the suffix that you see at the end of all domain names. There are hundreds of different ones you can choose from, and many companies utilize more than one to help boost their online presence. Picking the right top-level domain is essential to making sure your website performs adequately. Here are some of the most common top-level domains and when to use them.
.com
The .com domain was originally reserved specifically for commerce websites. It's now commonly used as the generic option and is a good choice if you don't know what else to use. It's especially useful if you do have an online store or other buying option, as it's commonly associated with online shopping. Because people may tend to put .com as a default when looking up a domain, most companies will utilize a .com with redirects as well as another domain that matches their business more closely.
.net
The .net domain is the second most commonly used domain and is often the second choice if a URL with .com is already taken. It was originally used as an umbrella domain, acting as a portal to other websites. It can be useful if you are a large business with many different sites.
.org
The .org domain is useful if you are an organization or group project. This domain typically signifies a larger business or group, and it usually is used by scholarly projects and many non-profit organizations.
.blog
The .blog domain has increased in popularity as online blogging has grown over the last few years. It's the perfect top-level domain for a website that functions primarily as a blog and shouldn't be used for a website that simply has a blog as part of its larger function. It can be a good idea to have a .blog that links back to your other domains to help with your online presence.
.gov & .edu
Unfortunately, it's not possible to utilize the .gov or .edu domains without the proper requirements. These are limited domains that can only be used by government entities and higher education institutions, respectively. Unless you are officially in one of those groups, you won't be able to use these domains.
Choosing a top-level domain is important in making sure that users and search engines know what kind of website you are hosting. There are hundreds of options to choose from, and there's almost always going to be a specific one that matches your company best.
Domain Name
Once you've settled on a top-level domain to use, you need to come up with your actual domain name. This is the most important part of choosing a domain and can either boost your website or ruin it.
Choosing a Name
When picking a domain name, you want to make sure that it matches your company or brand. For example, you don't want a domain name of 'newyorkdentist' if you run a pet grooming shop in California. The best domain names specify what kind of business you run, be it an online shop, a physical office, or freelance work.
Most companies will use the name of their business as the domain. This is the most effective way to help potential users find your company and easily remember how to look you up online. If you choose a domain that is too far removed from your name or other marketing material, it can be harder for users to find you.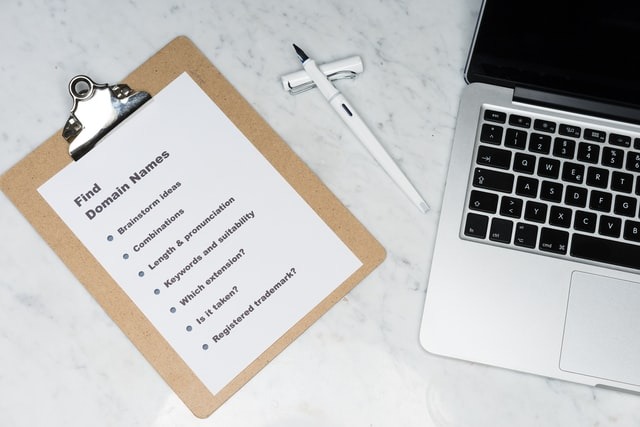 Photo by Markus Winkler on Unsplash
Checking Name Availability
Once you decide on what domain you're going to use, you need to make sure it's available. There can only be one domain with the same name at any time. The different use of top-level domains makes getting around the issue easier. However, simply utilizing a different top-level domain isn't always the best option.
For example, say newyorkdentist.com is already taken, but newyorkdentist.net is open. You could theoretically make your domain the .net one and be done with it. But if the .com domain is already active and thriving, you're going to have a hard time matching their online presence. In this case, it's best to choose a different domain that's more unique.
Now, if the .com domain site was inactive, you could get away with using a .net. And you could even look into purchasing the .com domain and rerouting it to your website to help capitalize on the presence that domain has already generated. Just make sure when buying old domains that their online presence isn't negative, as that can result in lowering your own score rather than increasing it.
Free Domain Name with Host For Web
When you choose to host online with Host For Web, we provide you with unlimited domain registration. Our support staff is also available to help you find the right domain name for your website. We can assist you with domain migration and purchasing to help ensure that your website is functional and contributes to the growth of your company. You can browse our hosting and domain services online or give us a call at 1-833-201-8322 for additional help with your website and account.