Everything You Need to Know About Website Maintenance
Website maintenance is an important part of running a company or business. Even if all you have is a small website for your personal brand, it's critical to ensure that everything is working properly. Many hosting services can help you cover some of the tasks associated with website maintenance, but it's still best practice to know how it works for yourself. A poorly maintained website is likely to lose clients/customers and create an image of unreliability for your business. By keeping up on your website maintenance, you ensure that your site and company are running smoothly.
Daily
The daily maintenance of your website comes down to the small details. It's a good idea to check that your website is up and active every day. Part of this task includes making sure that your site is running on different browsers. Problems can occur that will take your site down on some browsers but not others. If you're working with a hosting service, they'll be able to help you keep track of this data and inform you if there are any problems. Still, you'll want to check for yourself to be certain.
Daily website maintenance also includes minor tasks related to how your site operates. For a website with a shop, it's important to check and ensure your ordering forms and checkouts are working properly and that orders are being noted and processed. There's nothing more frustrating to a customer than not being able to check out or confirm their order was placed. Websites with a blog will want to check that posts are being uploaded properly and comments are moderated/responded to promptly. These daily operations are essential in maintaining your website's and your business's integrity.
Weekly
You'll want to take time once a week to do some more in-depth website maintenance. This mainly includes research on how your website is performing and what can be done to increase performance. Many hosting services offer analytics options, such as Google Analytics, to help you check your key performance indicators (KPIs). These will tell you how well your site is working to reach your goals. If the scores are lower than anticipated, then you can work with your team to create strategies to help your website improve.
Monthly
Every month you'll want to perform key website checks to ensure everything is running smoothly. For starters, go through your website as a customer or client and ensure all the features are working properly. Check for any images that don't load or get cut off. Make sure all the links on your page are live and lead where they're supposed to. Read through web content to ensure that everything is up-to-date and no changes need to be made (such as adding a new employee's bio or changing the dates on your next meeting/big sale). Ensuring that everything is accurate will build trust and help you promote your company as reliable.
You should also check all software, apps, and plugins for any updates at least once a month. Many technologies are updated frequently to help maintain a high level of security. Every day, hackers are discovering new ways to bypass security features and threaten your website. It's necessary to provide monthly checks for updates to ensure your data and your customers' information is safe. If your site is hacked or otherwise compromised, not only could you lose business and data, but you'll have a harder time building up your company's trust in the community again.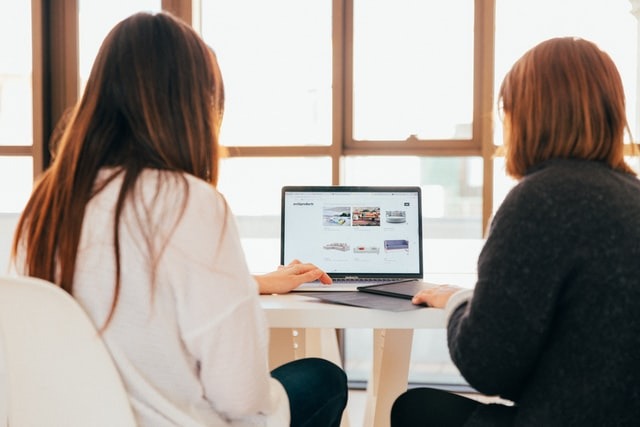 Photo by Kobu Agency on Unsplash
Annually
By doing regular maintenance tasks daily, weekly, and monthly, you'll be on top of your website's health. However, it's still wise to perform some additional maintenance tasks once a year. These include bringing in an outsider's perspective to double-check that your website is working and to provide suggestions for improvements. A fresh set of eyes and ideas can help your website improve and boost your company's productivity.
Once a year, you'll also be tasked with re-upping many of the costs associated with website maintenance. This includes renewing your domain name, updating and renewing your SSL (secure sockets layer) certificate, and renewing your business with whatever hosting service you may have chosen to employ. Hosting services offer you the availability to upgrade your package at any time. However, this yearly review and check is the best opportunity, as you'll have a working knowledge of what you'll need for improvements.
Why Website Management is Important
If you aren't yet convinced of the importance of website management, consider how much of your own life is spent online. Most people research a company or business online before they consider working with them or buying their products. You can have all the marketing and promotional materials in the world, but they'll mean nothing if your potential clients can't operate your website.
Having a clean and well-maintained website makes a great first impression and can help your company grow. By checking that your site functions properly, you're improving your SEO (search engine optimization) score, which helps you connect with new customers and clients every day. Monthly updates of your software, apps, and plugins also help you maintain security and protect your site, business, and customers.
HostForWeb has been a top contender among hosting services for years. Our goal has always been to support websites and their developers. We work tirelessly to keep your website up and running and help with all your website maintenance needs. We can help provide data backups, analytics checks, and updates. We also provide premium 24/7/365 support to help you with any issues your site may experience. You can shop for the perfect package for your hosting needs online or call us anytime at 1-833-201-8322 to get your website started.