SSL Certificates: What Are They and Why Do I Need One?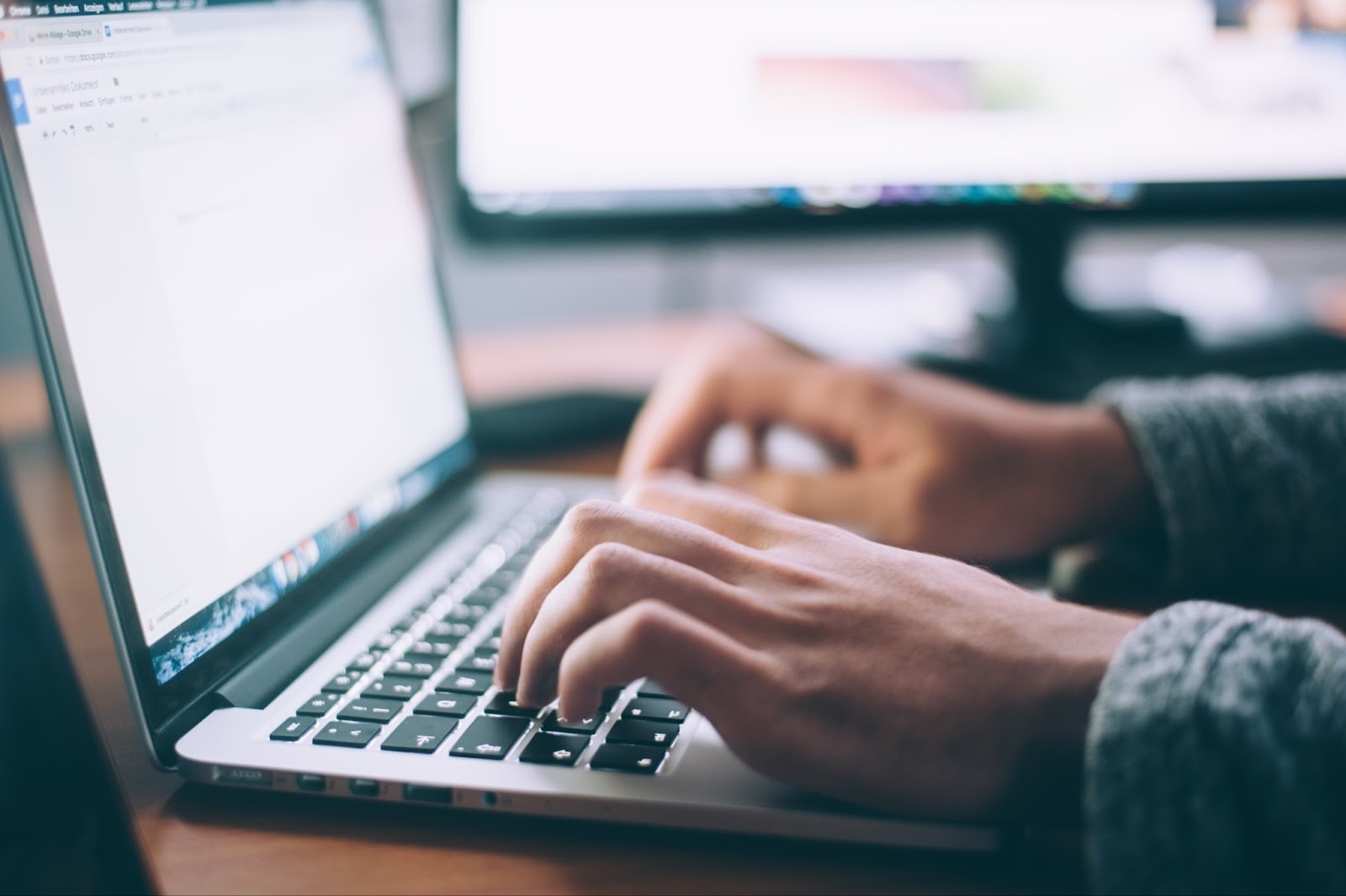 Have you ever wondered why some website URLs begin with HTTP and others with HTTPS? The answer lies within the SSL Certificate. A website with an SSL certificate will get the S. The S indicates that the website is secure and that any personal information you enter on the site will be encrypted to ensure security. Without an SSL certificate, website users run the risk of their data being leaked or hacked. As a business, you will definitely want to get an SSL certificate for your site. In fact, in most cases, it's required. Keeping your customers' information safe should be a priority, and an SSL certificate is one way to do so. Still confused on what exactly an SSL certificate is? Take a minute to learn more about them, how to acquire one, and how Host for Web can help.
What is an SSL Certificate?
SSL stands for Secure Sockets Layer. The SSL certificate helps your website connect with the user's browser to securely exchange encrypted information. The process is instantaneous. If you didn't know about the SSL process, you'd never know what was taking place behind the scenes. There are various types of certificates that you can get for your website. Picking the appropriate SSL certificate depends on how many domains/subdomains you have and the level of security you are looking for. Here are the different types of SSL certificates:
Organized Validated Certificate

Domain Validation Certificate

Wildcard SSL Certificates

Unified Communications SSL Certificate

Single Domain SSL
Your website hosting company can help you get your SSL certificate and figure out which one will work best with your site.
Not only does an SSL certificate protect your customers, but it also can improve your website's SEO ranking. Often, search engines will boost the rank of websites with SSL Certificates over those without. Another thing to keep in mind is that these certificates need to be renewed fairly often. In the past, SSL certificates were designed to last for anywhere from 3-5 years. As of 2020, both Apple and Google said they would no longer accept SSL Certificates after 397 days, which is 13 months. This means website owners need to make sure they renew their certificate at the appropriate intervals. Many hosting companies take care of this for you so that you won't have to remember on your own. Remember, if you let your certificate expire, sensitive data entered into your website is immediately at risk.
Do I Really Need an SSL Certificate?
The answer is yes! In fact, in many cases, it is required. This is especially true if you have an eCommerce site where customers enter credit card information on your website to purchase items and services. Even if you aren't selling things on your site, you might be collecting other customer information, like email addresses or names. All of this information needs to be securely protected and encrypted as well. SSL Certificates are easy to obtain and only cost a small monthly fee. For example, Host for Web offers a Shared Business Pro hosting plan for only $9.77 a month, which includes the private SSL Certificate as well as numerous other things.
You might be thinking that your business and site are too small to worry about SSL Certificate protection. This is definitely not true! In fact, according to godaddy.com, half of all cyberattacks target small businesses.
How Do I Know if a Website has an SSL Certificate?
Fortunately, it's easy for users to tell that your website has an SSL certificate. Located on the top bar with the URL, websites with certificates will show HTTPS in their URL, and a padlock icon will also be visible. Users can click on the padlock to see further details about the certificate, such as who issued the certificate, when it expires, and if it is defined as valid. Here is an example of what website users see when they click on the padlock in the URL box: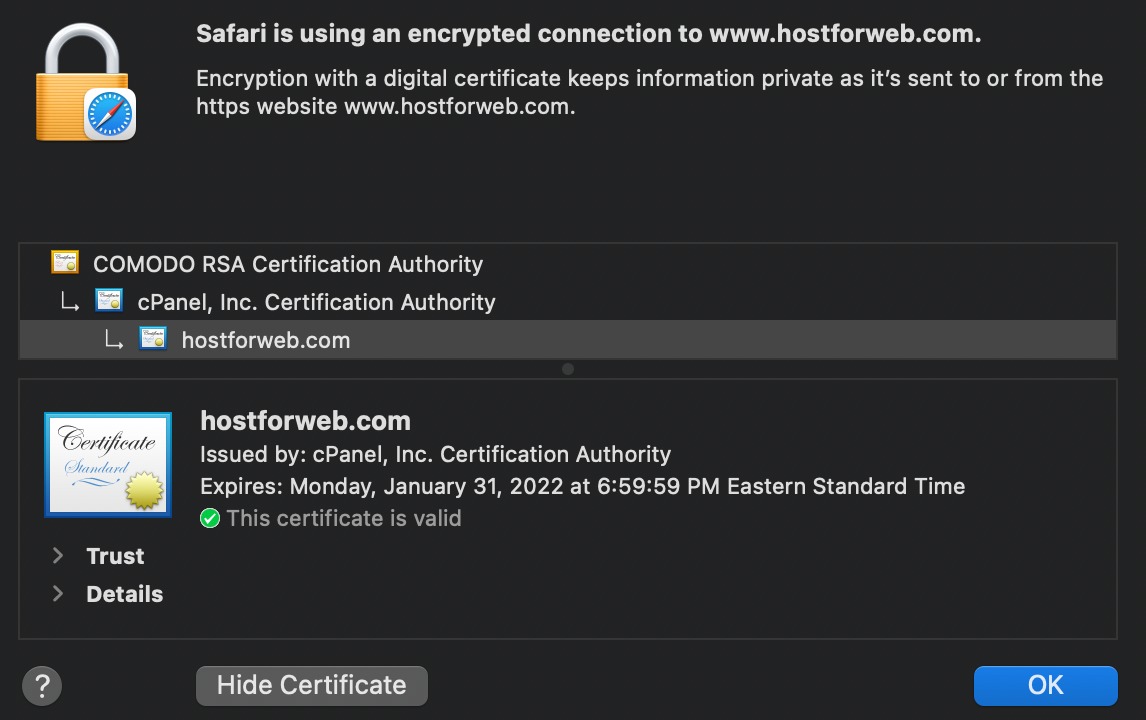 How Do I Get an SSL Certificate?
It's easy to get an SSL Certificate. When you pick out a web hosting company, discuss your options with them. Inquire about whether they offer certificates or if you need to go through a separate certification authority. Once you have acquired the certificate, make sure you are keeping track of when it expires so you can renew it on time. Remember, you never want your certificate to expire, even for a few minutes. Anytime your certificate is expired is a time that automated web hackers can take advantage of the security lapse and steal sensitive information.
SSL Certificates may seem complicated, and behind the scenes, they are! Encrypting information and communicating with browsers is a complex, instantaneous process. Fortunately, as a website owner, you don't need to know all the details about how an SSL Certificate works. You just need to make sure you have one! As mentioned above, SSL Certificates are required in many situations, especially if you have an eCommerce site. If navigating the world of hosting and certificates makes you feel overwhelmed, don't worry - you are not alone!
At Host for Web, we offer affordable hosting packages to keep your site safe, secure, and fast. We offer various hosting packages, some of which include private SSL Certificates. If you are in the process of creating a website or looking to switch to a new hosting provider, contact us today! We look forward to learning more about your business and your website needs.